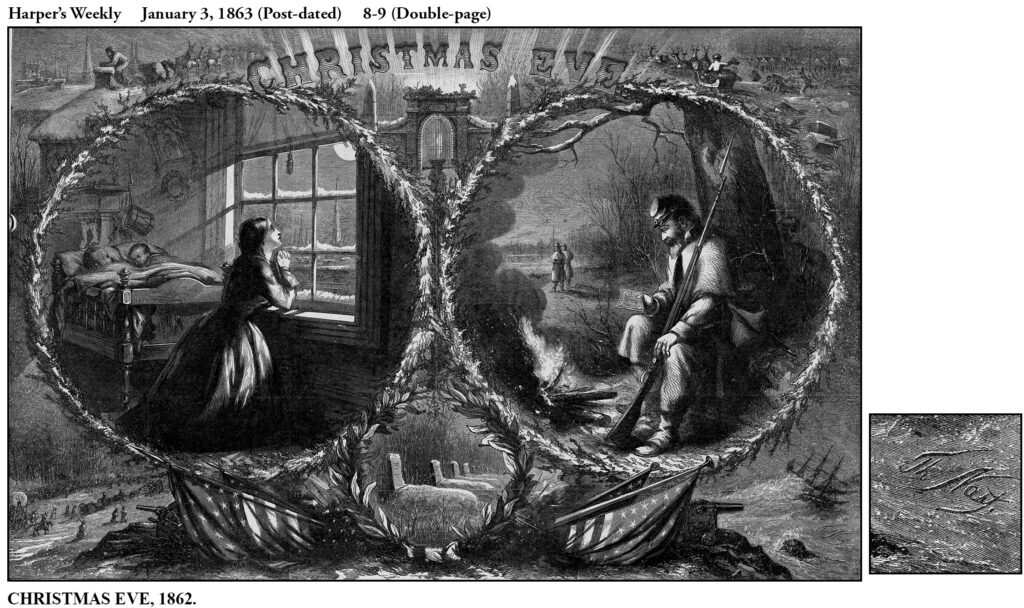 Harper's Weekly – January 3, 1863
In the same post-dated issue as Santa Claus in Camp, Christmas Eve, 1862 was a milestone in Nast's early career. His sentimental allegory drew so much praise from the Harper brothers, as well as their public, that their young artist's power to draw what and how he wanted was virtually veto-proof. Nast's bold enlarged signature in the lower right re-emphasized his self-announced arrival as his own man.
The scene resembled a large valentine as it portrayed the love between a wife looking up at the moon and praying for her husband in the left oval while he, on picket duty in front of a camp-fire, gazed longingly at photographs of his family. Santa was preparing to go down the chimney with gifts for their sleeping children, while distributing packages (upper right) to the troops depicted in the related cover illustration. Below, the vignettes of soldiers marching, graves, and ships patrolling in a storm emphasized the realities of military life.