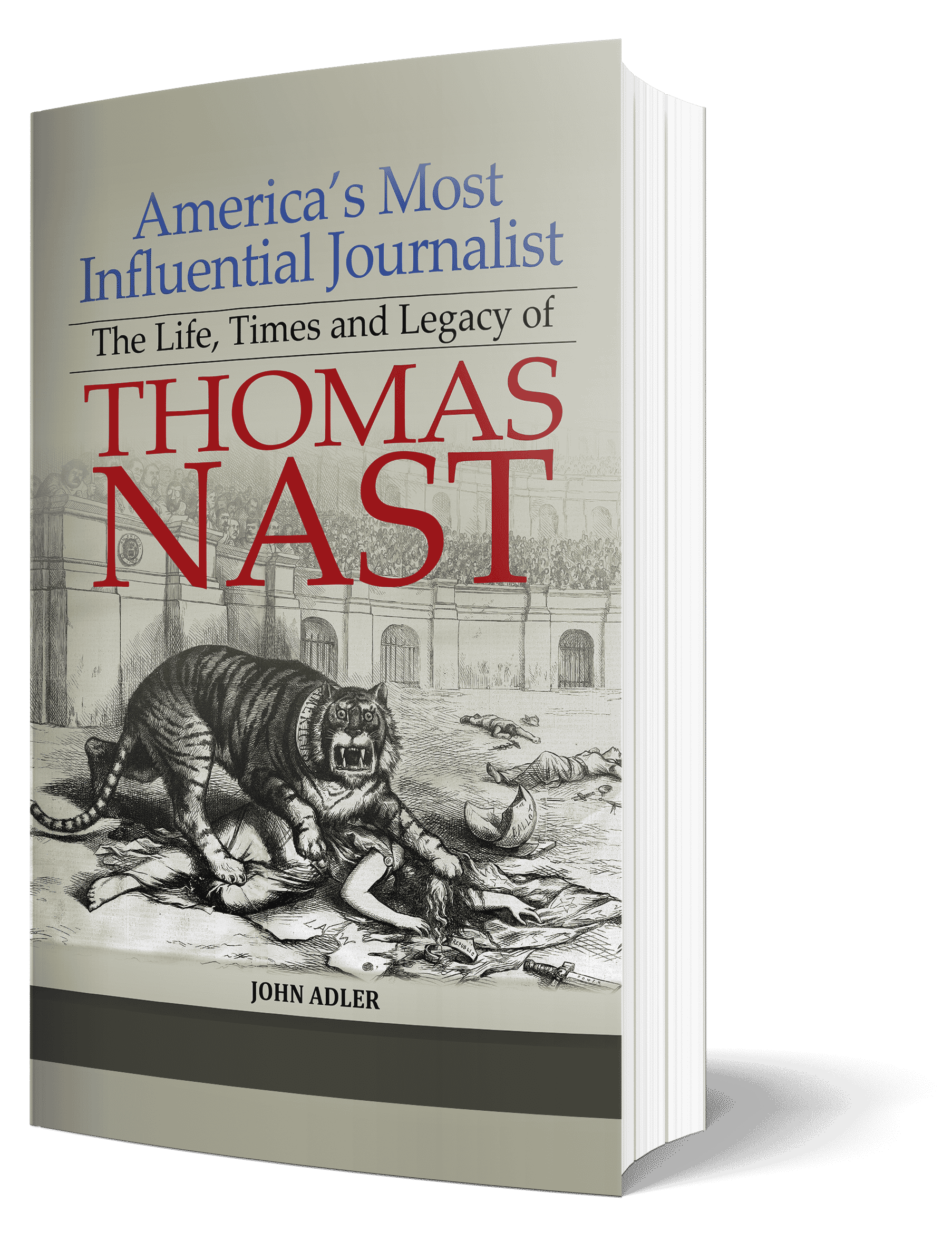 Why you'll want to own this book
Summary review by 19th Century cartoon historian and author Richard Samuel West:
"After more than 100 years of having to rely on Albert Bigelow Paine's entertaining but hagiographic and error-filled Thomas Nast His Period and His Pictures (1904), we finally have a biography of America's greatest political cartoonist worthy of replacing it. John Adler has created a meticulous, comprehensive, fair, and accurate biography of the father of American cartooning. With more than two decades devoted to studying Nast's entire massive output behind him, Adler is the perfect guide for 21st century readers interested in understanding Nast's cartoons, learning about the politics that prompted them, and discerning the impact they had. At the end of journeying through this massive tome, we are left with an appreciation of Nast and his extraordinary achievement like never before."
The power and influence of Nast's cartoons largely emanated from their repetition over weeks or months as his stories unfolded and he banged his points home in Harper's Weekly, whose financial strength, reach and dominance made it the country's leading illustrated newspaper. This 830-page biography contains 1,000 Nast cartoons, illustrations, sketches, and paintings — 800 from Harper's Weekly and the balance from Frank Leslie's Illustrated Newspaper (25), New-York Illustrated News (47) and other publications, plus 100 cartoons on Nast-related topics by 20 other artists like Joseph Keppler of Puck — each with its principal characters identified and its content and context explained. The manually-created Index, predicated solely on Nast's work — provides a unique, encyclopedic reference resource. Visualize the downfall of corrupt Boss (William M.) Tweed and his Ring of thieves, the Civil War, Reconstruction, six Presidential campaigns, and Nast's legacy: the Republican Elephant, modern images of Santa Claus and Uncle Sam (all created by him) and the Democratic Donkey (popularized by him).
Special Introductory Price $75