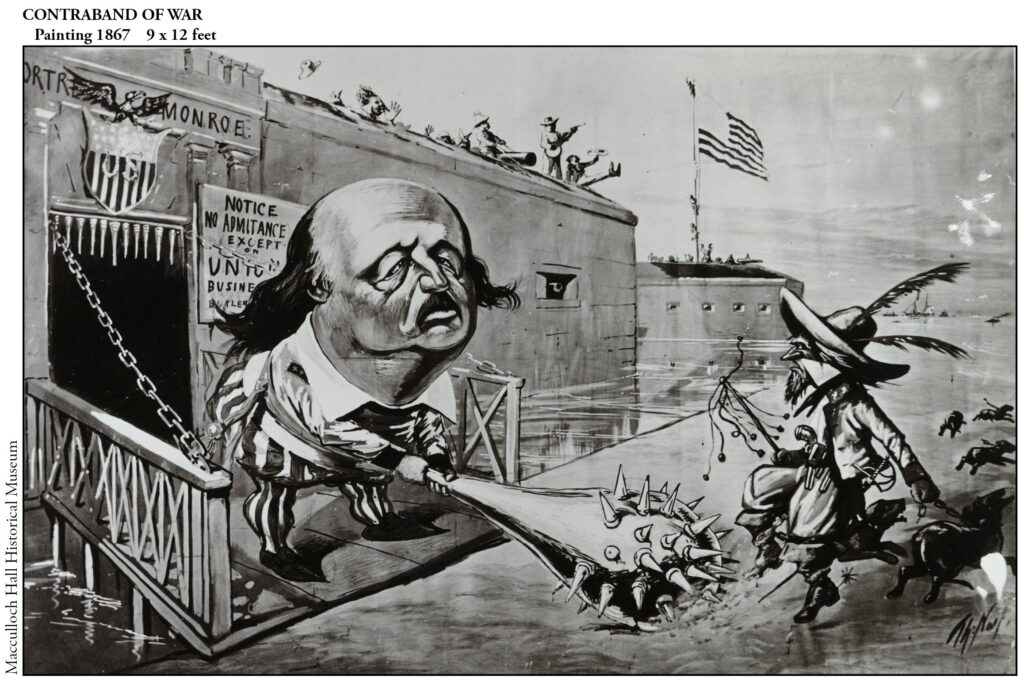 Unhappy at Harper's Weekly because of conflicts with editor George William Curtis, Nast left for a year (June 1867-8) to undertake the most entrepreneurial and potentially career-changing venture of his life. He believed that he could satisfy his passion for historical painting and his talent for caricature by combining them into a novel, attention-getting panorama.
Moving panoramas had been popular in the Unites States since the 1830s, anticipating the arrival of motion pictures on film by half a century. They consisted of thirty to fifty tall pictures, painted with impermanent water-based tempera, generally on cotton muslin similar to that used for theatrical scenes. The sequential pictures were unfurled between two tall spools, concealed from viewers by a knob or crank as part of an unseen control box; they were not intended to be viewed up close.
Nast spent six months creating the Grand Caricaturama: 33 approximately nine-by-twelve foot panels. Twelve targeted "King Andy" Johnson, the current occupant of the White House, who was facing impeachment; the remainder deal with the Civil War, slavery and sectionalism.
Recognizing that General Benjamin Butler, now a Republican Congressman, would play a leading role at Johnson's trial if he were impeached, Nast honored him here for establishing the concept of contrabands six years before. In the interim, he came to dislike Butler because of his subsequent military failures. In this large painting, he may have been implying that the spiked mace that Butler used to deny the slave-retrievers access to Fortress Monroe could also hypothetically be applied to the President.
The contrabands on top of the fortress wall jeered at the Confederate, while the crow (not an eagle) on top of the shield may have had a double meaning — Butler and the ex-slaves crowing, and the Confederate having to "eat crow" in spite of his cat-o'-nine-tails in one hand and a chain holding his slave-hunting dogs in the other.