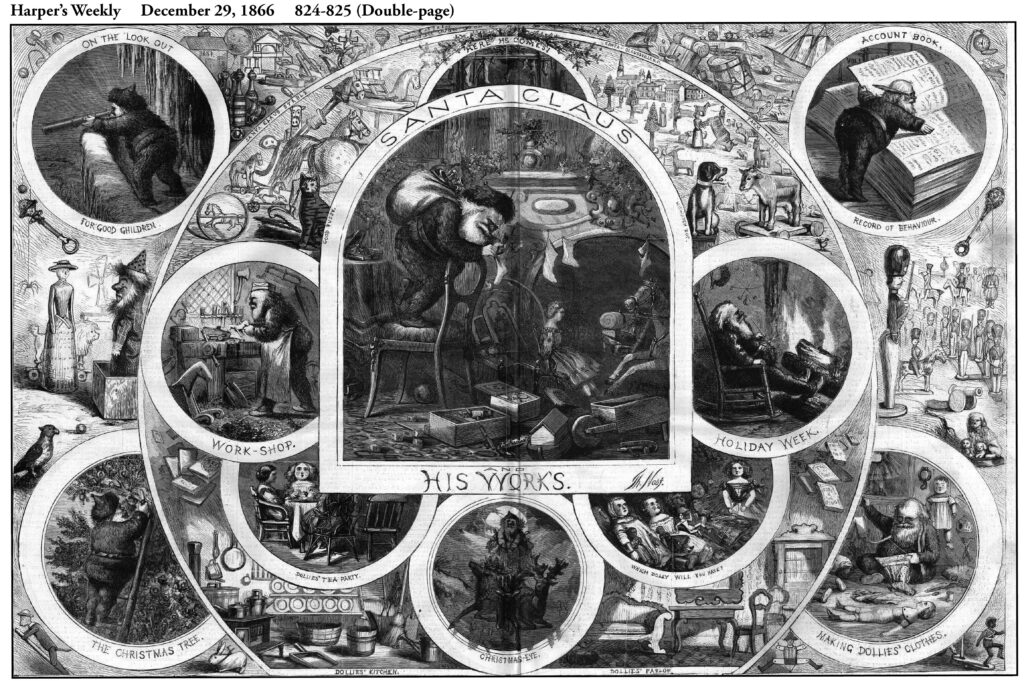 Harper's Weekly – December 29, 1866
Clement Moore personified the modern Santa Claus when he wrote his iconic 'Twas the Night Before Christmas in 1822, but it wasn't published in book form until 1848.
The centerpiece of Nast's 1866 double-page, 20-vignette cartoon depicting Santa's Workshop featured Moore's elfin, fur-suited Santa standing on a chair to reach the stockings hung on the mantle. To his left, he was using hand tools to make toys in his workshop, while at the lower right, he was hand-sewing dollies' clothes; four other vignettes depicted dollies' kitchen, parlor, tea party and costume assortments. Nast's oldest child Julia was four, so his mind was focused on gifts for her.
In small letters at the top of the central circular enclosure, "Santaclaussville, N.P." encompassed the farmyard, stables and household pets, as well as his sleigh and reindeer on Christmas Eve. At the lower left, Santa was on a ladder, cutting gift toys off "The Christmas Tree."
"N.P." was another Nast creative landmark: the North Pole as Santa's workshop and residence — geographically isolated, politically neutral, and a natural tie-in to reindeer and snow. The pole had been in the news intermittently for two decades — since British Admiral Sir John Franklin's ill-fated 1845 Arctic expedition — so the Weekly's audience could readily relate to it.
At the upper left, Santa — leaning on an icy parapet — was using his telescope "on the lookout for good children." Below, his bad children's jack-in-the-box Santa symbol, made its initial appearance. For emphasis at the upper right, Santa was studying the "record of behavior" in his account book.