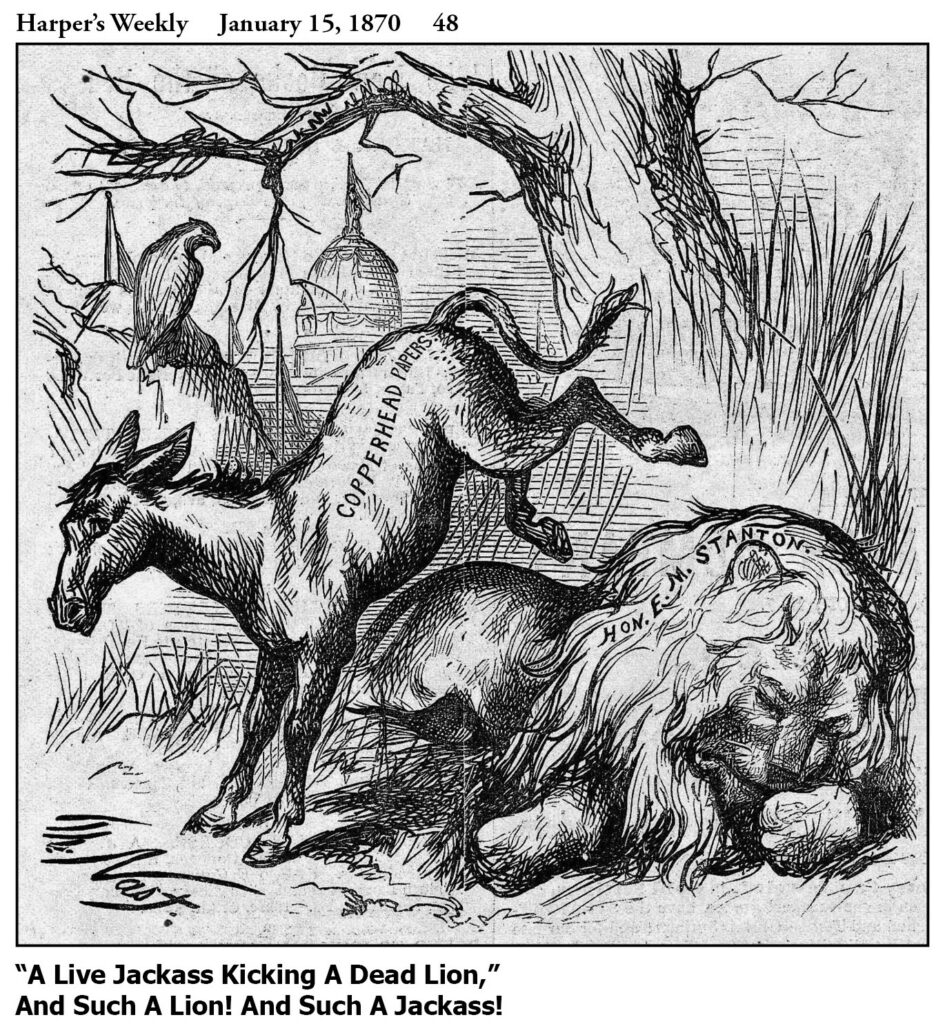 Harper's Weekly – January 15, 1870
The Democratic Donkey
Nast did not originate the Donkey as a symbol of the Democratic Party. However, today's Democratic Donkey is traceable to Nast's initial use of it here, and his subsequent repetition and popularization of it.
Edwin Stanton, President Ulysses Grant's boss as Secretary of War in the Abraham Lincoln and Andrew Johnson administrations, died the day before Christmas 1869. He had been ailing both physically and financially. Grant had announced his appointment to the Supreme Court, but he was unable to take his seat.
Manton Marble, editor of the World, was among the other Democrat (formerly Copperhead) publishers to smear Stanton, whose dismissal had resulted in Johnson's impeachment. With Aesop as his inspiration (in the first of seventeen Aesop-inspired cartoons), Nast depicted the Copperhead press as A Live Jackass Kicking a Dead Lion, with an American eagle looking askance in the background.
A male donkey is known as a jack, and the "Jack-ass" had been used forty years earlier to denigrate Democratic President Andrew Jackson. Nast didn't originate the Party's symbol; to him, the donkey was a figure of derision, probably derived from Bottom the Fool, the perfect ass in Shakespeare's A Midsummer Night's Dream. On occasion, he also represented key Democrats and their party as foxes, wolves, jackals, vultures, geese and, of course, Copperhead snakes.