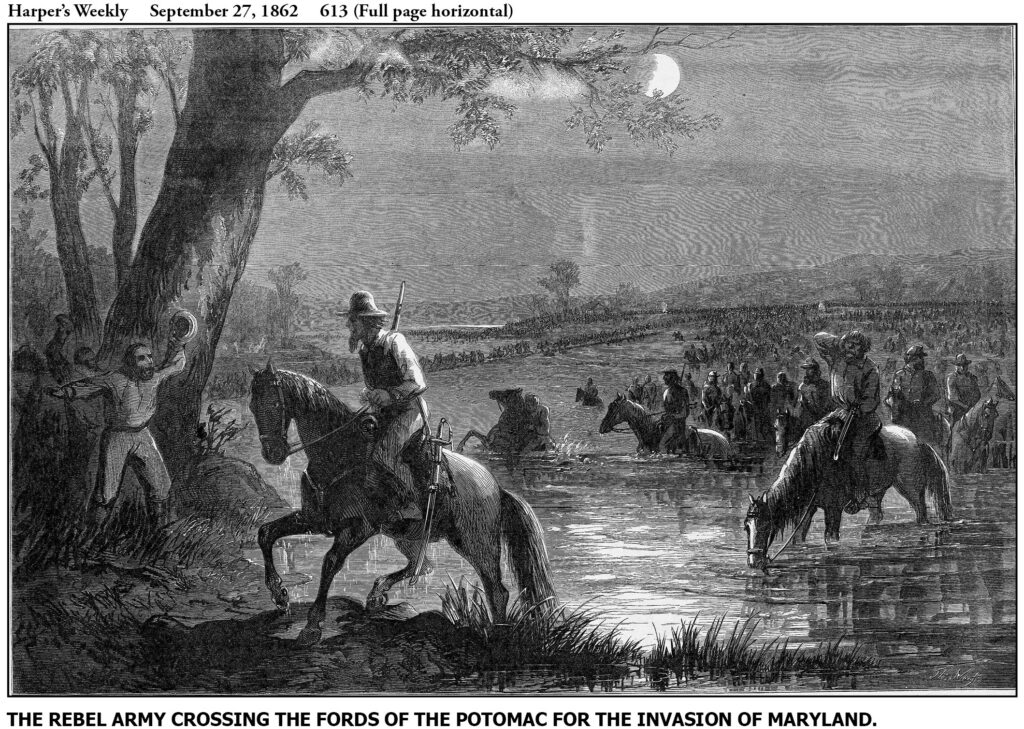 Harper's Weekly – September 27, 1862
Antietam
On the night of September 4-5, 1862, General Robert E. Lee invaded Maryland en route to the Battle of Antietam. Alfred Waud painted an on-the-spot watercolor and sent his picture to Harper's.
Nast built on Waud's painting to evoke the drama of a gigantic rebel army stealthily crossing the Potomac by moonlight to gain a foothold on Union ground for the first time. Lee expected a royal welcome from Maryland's civilian population; he did not receive it (although Nast showed a cheering sympathizer). Lee moved on to "the bloodiest single day of the war" at Antietam, where more than 5,000 men died and another 21,000 were wounded or missing. The issue with Nast's illustration in it was on the newsstand a week earlier, three days after the Battle of Antietam took place, but before it was depicted in the weeklies.
Union Commanding General McClellan, should have won a clear-cut victory at Antietam because he had more troops (75,000 vs. 52,000) and an advance copy of Lee's plans which a Confederate soldier had lost. By procrastinating beforehand and not following up aggressively afterwards, he let Lee escape back to Virginia. Nevertheless, McClellan was considered the victor and Nast depicted him on the cover of the next issue receiving a hero's welcome in Frederick, Maryland.
Lincoln finally fired McClellan on November 7, 1862, and replaced him with Ambrose Burnside.