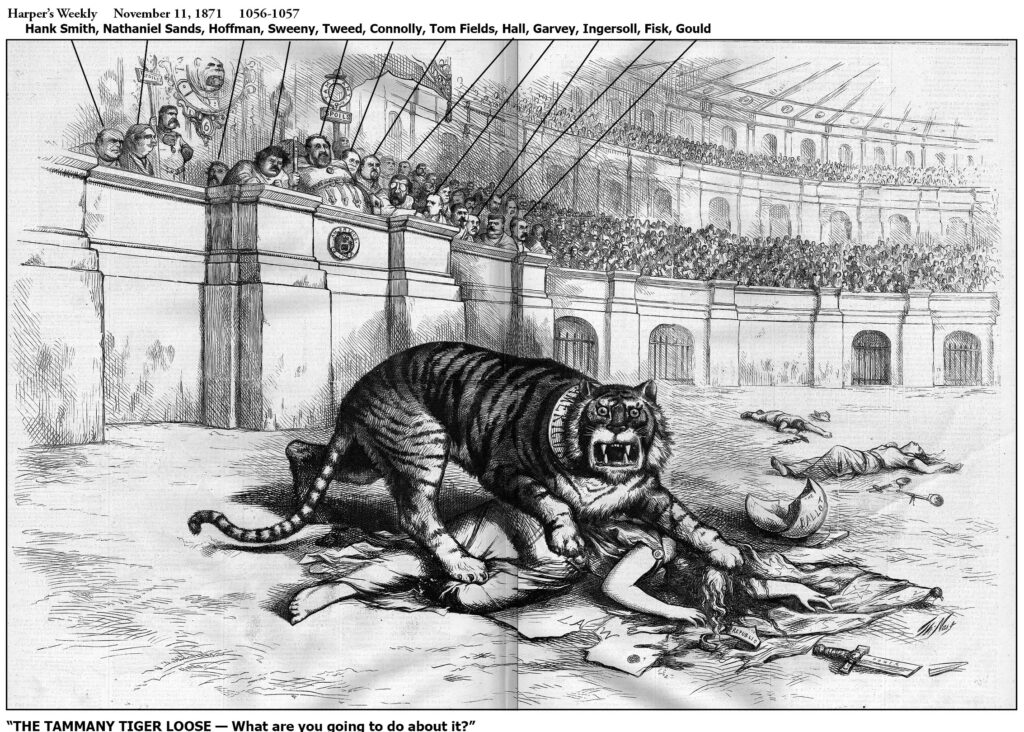 Harper's Weekly – November 11, 1871
Nast used the Tammany Tiger for his campaign climax, along with five other cartoons — occupying four-plus pages in total — in the post-dated November 11 Weekly, available six days before the election. However, his keynote tiger had to compete for attention with Mrs. O'Leary's cow and the resultant Chicago fire, whose illustrations and descriptions were featured on the cover and several other pages.
Nast prepared this double-page cartoon well in advance of its publication. Now he flung What are you going to do about it? directly at Harper's 275,000 circulation — swollen to more than twice its regular size, primarily because of Nast's cartoons — and million-plus readers. Set in the Roman Colosseum, he pictured the action from the floor with the Ring members looking on apprehensively as the massive tiger — 11 inches from tail to paw — mauled Lady Liberty. Her "Republic" crown and sword of power lay in pieces; the "law" torn; the "ballot" bowl shattered; and Justice dead, scales and sword broken by her side.
Of the principal Ring members, only State Senator Tweed was on the ballot. He actually won but never took his seat. Peter Sweeny's brother-in-law, Mike Norton, and Tweed's Republican buddy, Tom Fields, also running for the Senate, lost. The major victor was the State Attorney-General, whose office could now prosecute the Ring without interference.
Looking at Nast's career in its entirety, The Tammany Tiger Loose was probably the second-most impactful cartoon he ever drew, and among the tops in American political history. (Compromise with the South was the most important. See Civil War cartoons.)