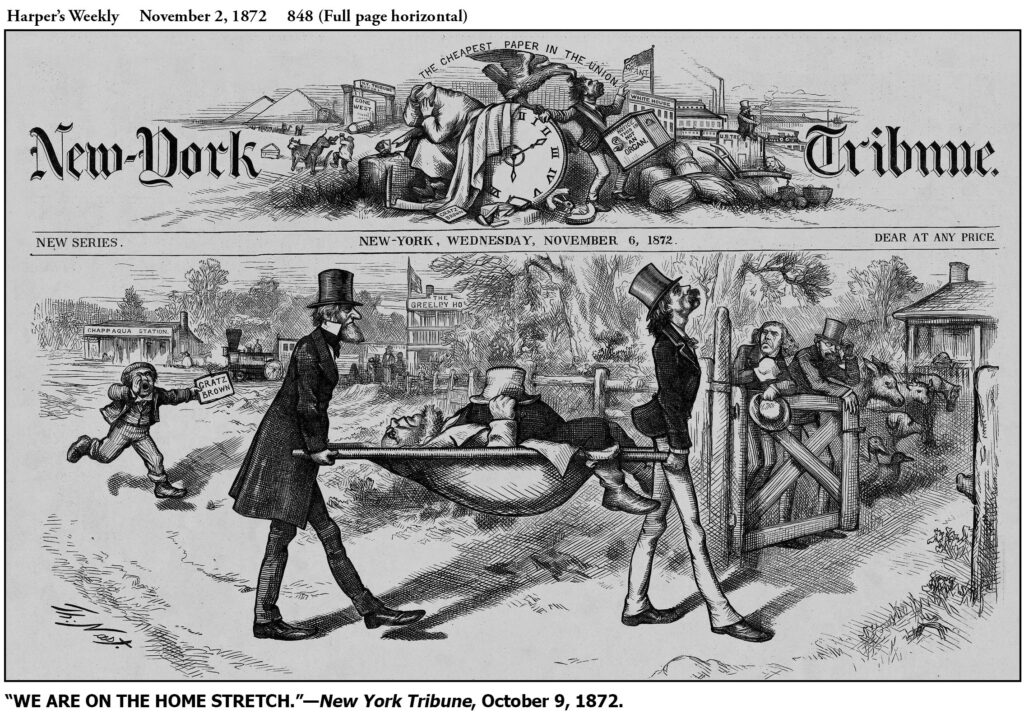 Harper's Weekly – November 2, 1872
As the campaign headed into its final weeks, Nast used the home stretch as a theme for three successive issues. Its origin went back to an optimistic editorial which Whitelaw Reid published in the Tribune following Democratic losses in bellwether state elections on October 8: "Friends, we are on the homestretch, with every prospect of success." A pro-Grant Times editorial wished "that Mr. Nast would draw a picture of it."
Nast's second Home Stretch cartoon was prophetic in ways the artist could not have foreseen, and its cleverness made it among the most controversial images of the campaign. Responding to Reid's bravado statement about the home stretch, the Times commented: "True. H.G. is going home to Chappaqua, and has every prospect of reaching there." Nast jumped on that.
His post-dated parody hit the newsstands on October 23, thirteen days before the election. Unfortunately, Mary Greeley died of consumption a week later in New York. Her husband of 37 years stayed with her around-the-clock during her final days, going sleepless at the cost of his own health. Her death and his doomed campaign broke him physically and mentally. He would die 30 days later in Chappaqua, having totally lost his mind.
The cartoon's overall design was a fake Tribune front page, dated the day after the election and "dear at any price." The masthead showed Greeley, facing backward, as disconsolate Father Time, while Reid, facing forward, banded to his "This is not an organ" organ (the pro-Greeley Tribune), had his head viciously attacked by the American eagle perched on the stopped Tribune clock. President Grant smoked contentedly on the roof of the Treasury building in the background.
Dominating the picture and the resultant controversy, was the image of the stricken candidate being carried on a stretcher from the Chappaqua railroad station to his farmhouse by his two closest associates, grim Senator Reuben Fenton and haughty Tribune publisher Reid. Nast's special touch was a shouting boy who was trying to return the Gratz Brown tag which had fallen off Greeley's coat. Theodore Tilton, weeping copiously, and Carl Schurz, about to tip his hat, waited at the front gate. (Tilton was a Greeley campaign manager along with Reid.)