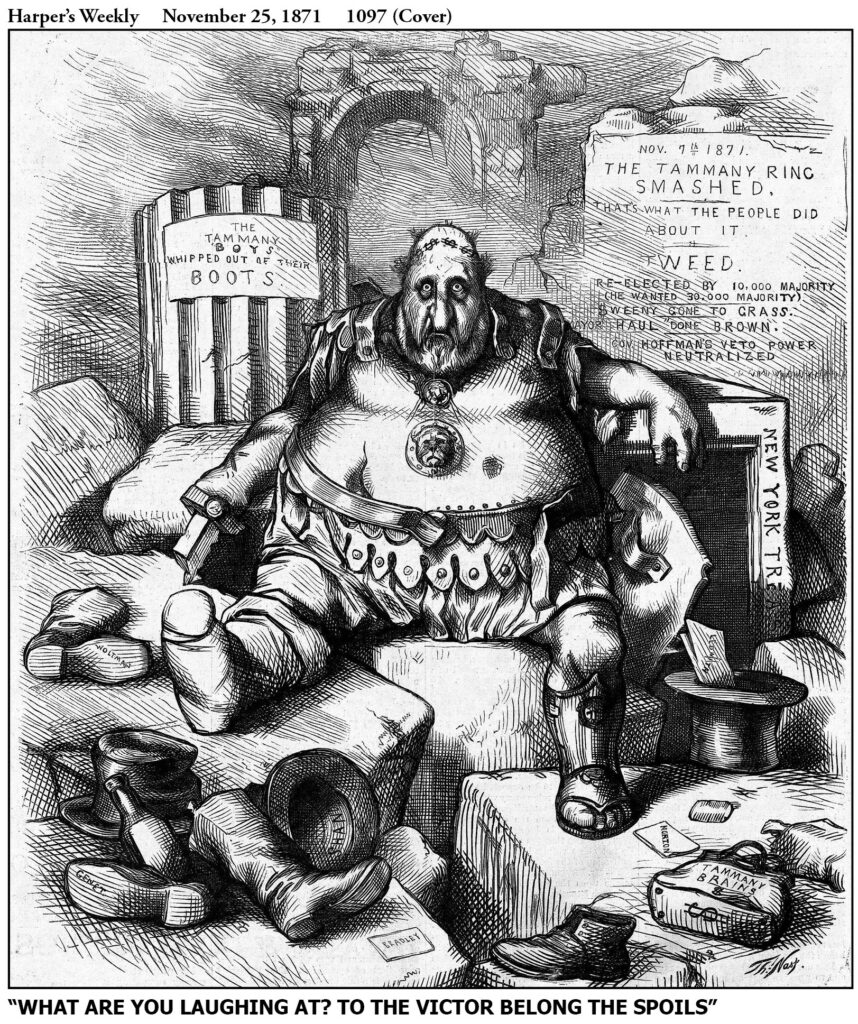 Harper's Weekly – November 25, 1871
"November 7, 1871 — The Tammany Ring Smashed — That's what the people did about it — Sweeny gone to grass — Haul done brown — Gov. Hoffman's veto power neutralized" were among the phrases Nast used in his cover cartoon which appeared eight days after the election in a post-dated issue.
Reiterating his depiction of Tweed as a Roman emperor (from The Tammany Tiger Loose), Nast's sequel featured the Boss as the exiled Roman general Marius sitting on the ruins of Carthage in 146 B.C. His model was an 1807 painting by American John Vanderlyn. The last part of the title — To the Victor Belong the Spoils — was a take-off on the catchphrase of Jacksonian Democracy coined by New York Senator William Marcy in 1832.
Wearing a headband of dollar signs (perhaps indicative of thorns), Tweed stared vacantly at his viewers. A gloomy tiger medallion hung from his huge emerald, his right hand held the remnant of a broken sword, and his left rested limply on an empty treasury safe. A sign noted that he won his State Senate seat by 10,000 votes, a third of what he wanted. He never took office.
The sign posted next to Tweed read "The Tammany Boys Whipped Out of Their Boats," which were scattered below identified by their owners' names. Sweeny's abandoned money bag labeled "Tammany Brains" lay unattended at the lower right, he had secretly resigned as Commissioner of Public Parks six days before the election, but withheld that news and its effective date until after the returns were official.
If there was one single issue of Harper's Weekly when Nast reached his apogee of both skill and uncontroversial recognition, this was it. Including the cover, he dominated three of the first five pages. Probably no American political loser has ever been caricatured as effectively after defeat.