America's Most
Influential Journalist
The Life, Times and Legacy of
by John Adler
America's Most
Influential Journalist
The Life, Times and Legacy of
by John Adler
Browse, learn about Thomas Nast, enjoy and savor his 160 cartoons — and if you like what you see,

Buy The Book!
"This book is both magnificently illustrated and beautifully written. I of course had known of Thomas Nast's powerful illustrations and their impact on 19th Century political figures from Ulysses Grant to the Tweed Ring. But I had no idea of the breadth of his reach, the intricacy of his art, and the genius of his entrepreneurship. This is a book whose every page I will turn and then go back to again and again."
— Paul Steiger, Executive Chairman of ProPublica, Former Managing Editor of The Wall Street Journal
Why Thomas Nast Was So Influential
America's best-ever political cartoonist is renowned for creating the Republican Elephant and popularizing the Democratic Donkey. He also created the modern images of Santa Claus and Uncle Sam, influenced five victorious Presidential elections, and satirically commented on seven administrations.
Nast's star shown brightest during the Civil War and Reconstruction — when he had virtually no competition — and continued through the first decade of the Gilded Age.
Nast's most memorable victory — bringing down New York's corrupt and entrenched Boss (William) Tweed and his Ring of thieves in 1871 — was achieved through informal collaboration with The New York Times. The paper extolled Nast, capturing the essence of the cartoonist's power and influence.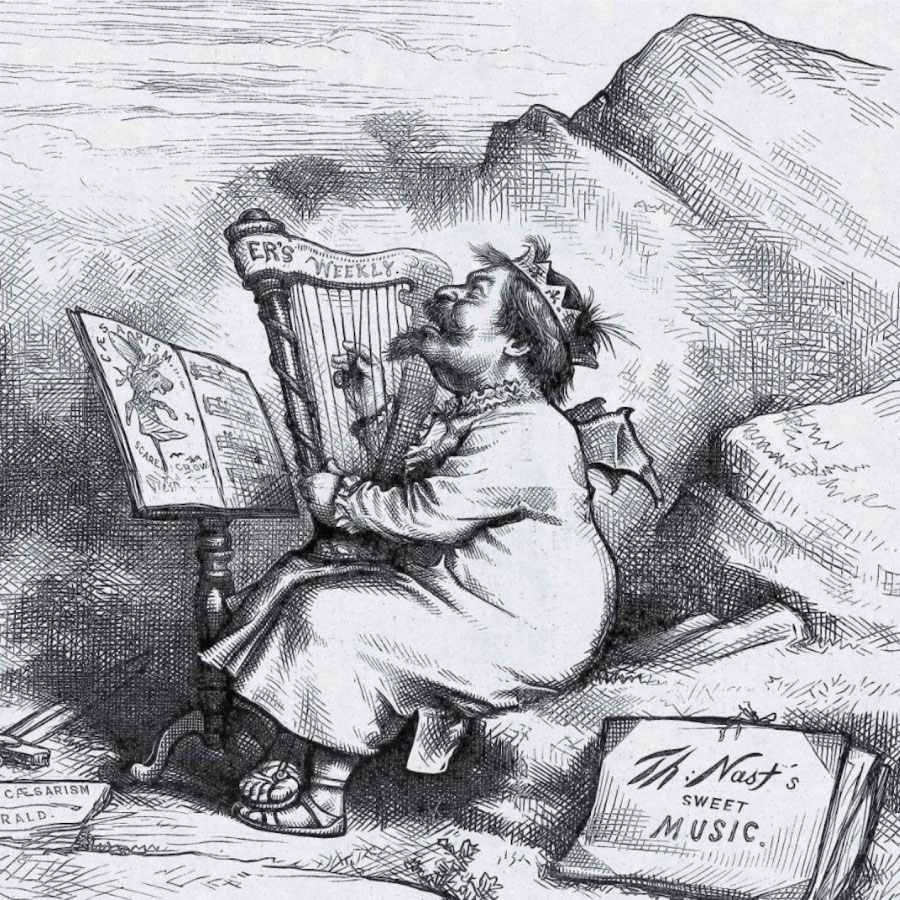 How The New York Times Viewed Nast
"Mr. Nast has achieved a reputation which many men of twice his age might well envy, and which will probably outlast the reputations of most men who profess to form and direct public opinion. A man who can appeal powerfully to millions of people with a few strokes of the pencil, must be admitted to be a great power in the land. No writer can possibly possess a tenth part of the influence which Mr. Nast exercises.
He addresses the learned and the unlearned alike. Many people cannot read 'leading articles,' others do not choose to read them, others do not understand them when they have read them. But you cannot help seeing Mr. Nast's pictures, and when you have seen them you cannot fail to understand them. When he caricatures a politician, the name of that politician ever afterwards recalls the countenance of which Mr. Nast has made him a present. An artist of this stamp — and such artists are very rare indeed — does more to affect public opinion than a score of writers."
— The New York Times, March 30, 1872
Cartoons
To appreciate Nast's artistry and wit, browse these 157 cartoons, some of which nobody alive has seen before.
This 830-page biography contains 1,000 Nast cartoons, illustrations, sketches, and paintings.
800 from Harper's Weekly, the balance from other rare publications including Frank Leslie's Illustrated Newspaper (25), New-York Illustrated News (47), Phunny Phellow (19), a comic paper that Nast contributed to from 1859-1873
100 cartoons on related topics by 20 other artists like Joseph Keppler of Puck
Why so many? The power and influence of Nast's cartoons largely emanated from their repetition over weeks or months as his stories unfolded and he banged his points home. To cherry-pick his almost 2,200 cartoons and illustrations in Harper's Weekly any further could have diluted the cumulative impact they conveyed.
Character Identification and Context
Every cartoon and illustration has its principal characters identified and its content and context explained.
The Tammany Tiger
This cartoon — illustrating the cover of this biography — depicted Boss Tweed and 11 of his identifiable henchmen.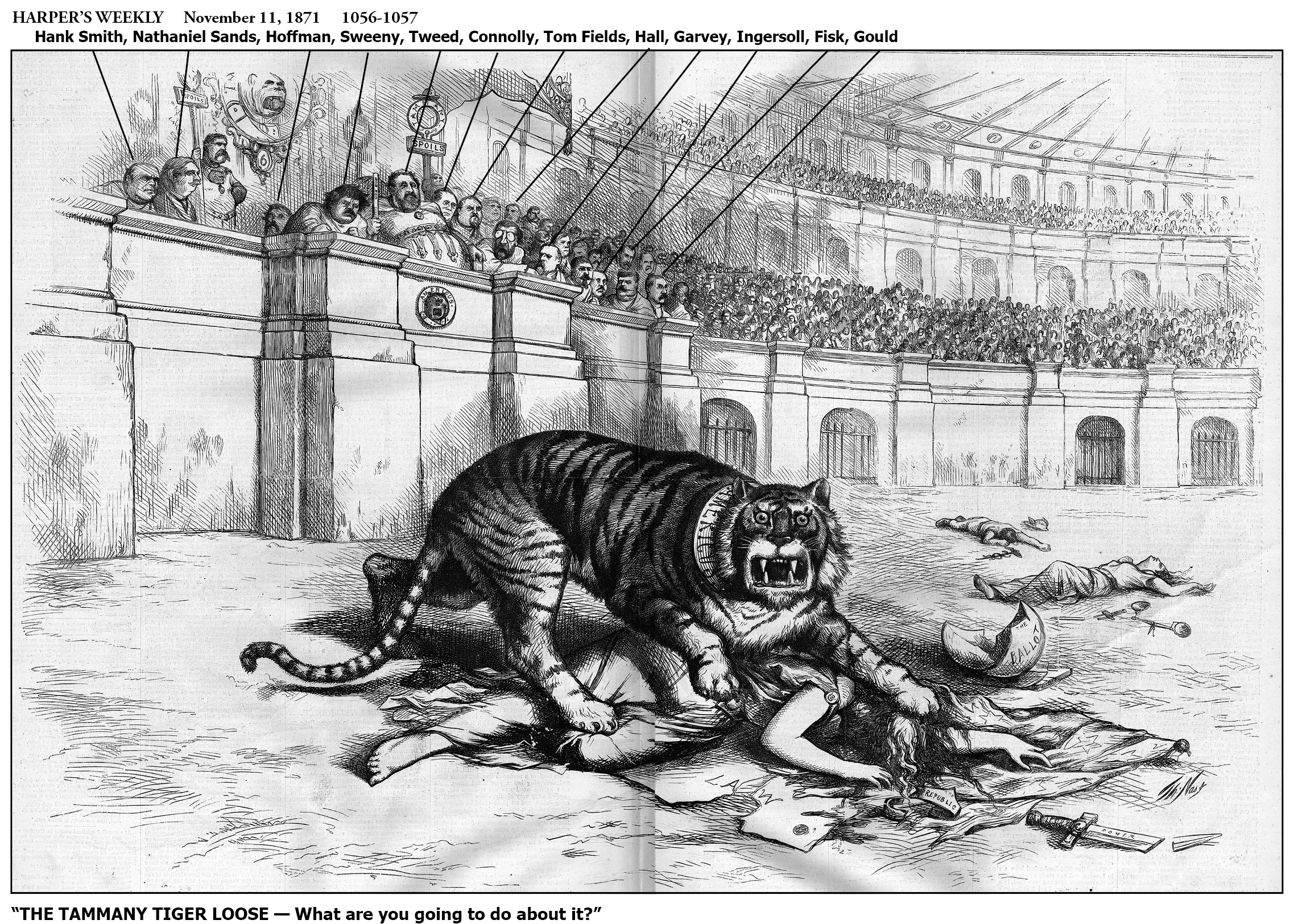 Amphitheatrum Johnsonianum
This Reconstruction double-page portrayed President Andrew Johnson, along with 23 of his supporters and opponents.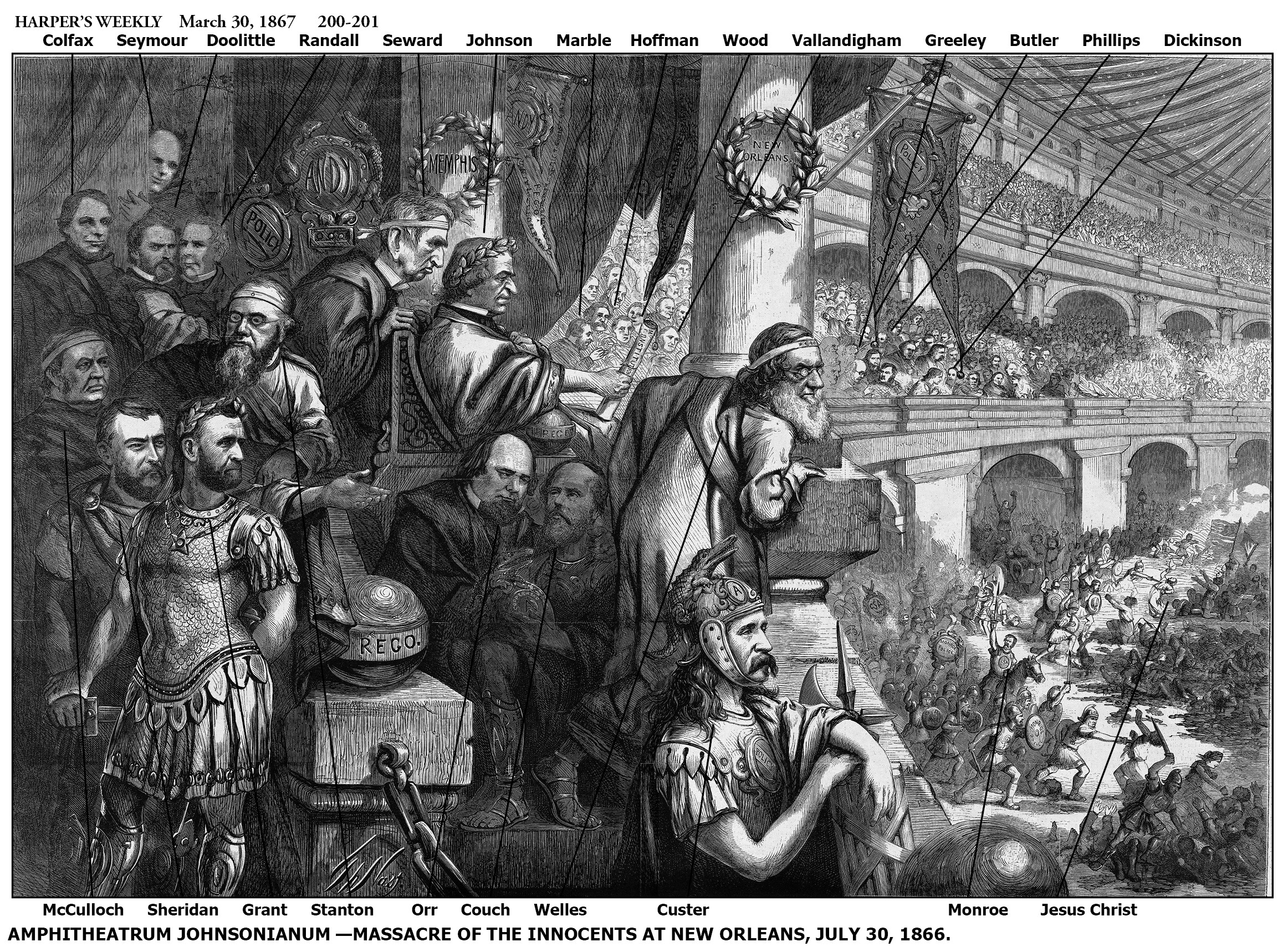 Cinderella
In the short-lived Illustrated Chicago News, Nast presented 18 potential candidates for the 1868 Presidential election.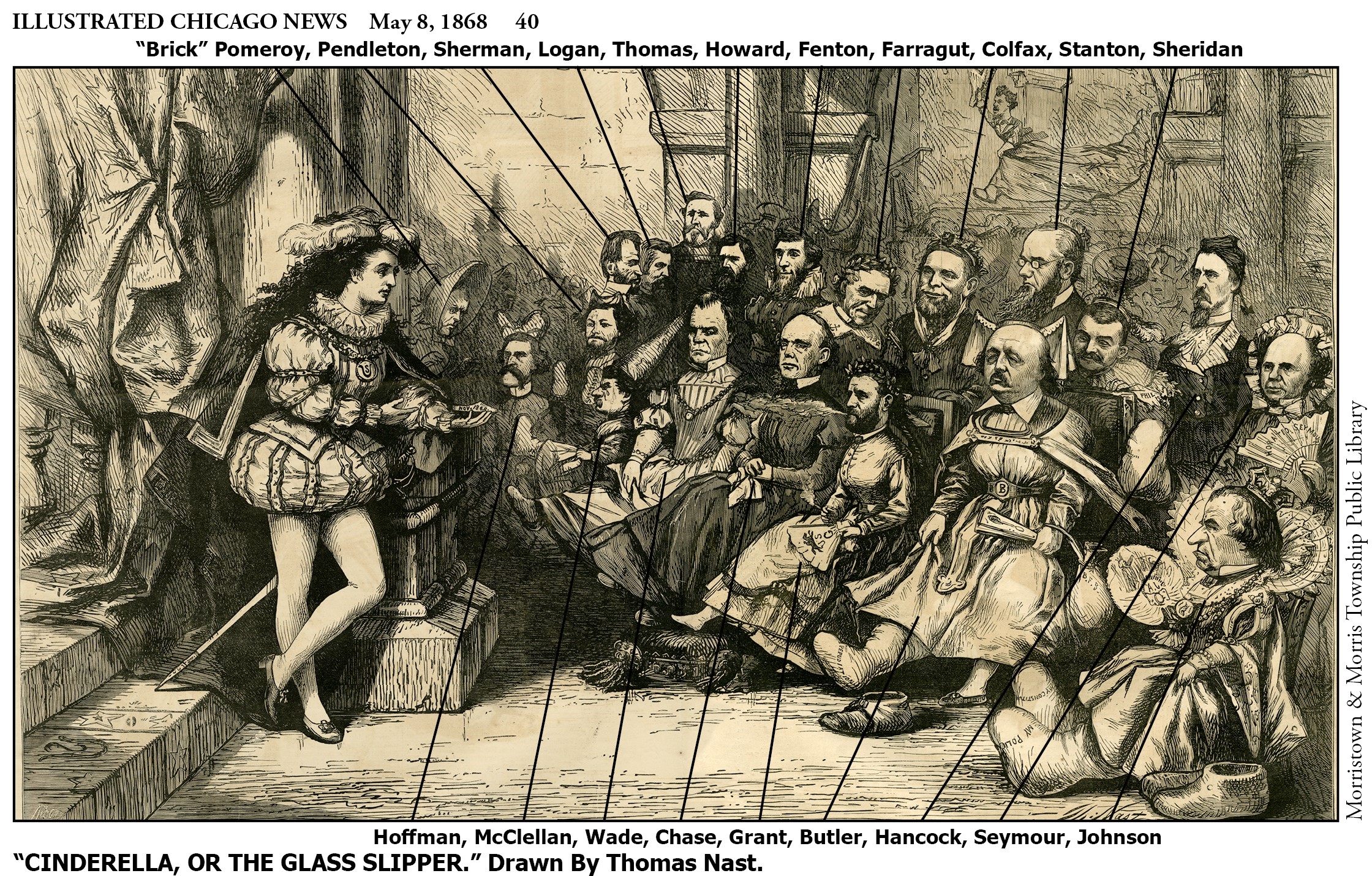 Unconditional Surrender Grant
After Ulysses Grant's 1868 victory over Horatio Seymour, Nast depicted himself along with 24 Civil War and Reconstruction characters.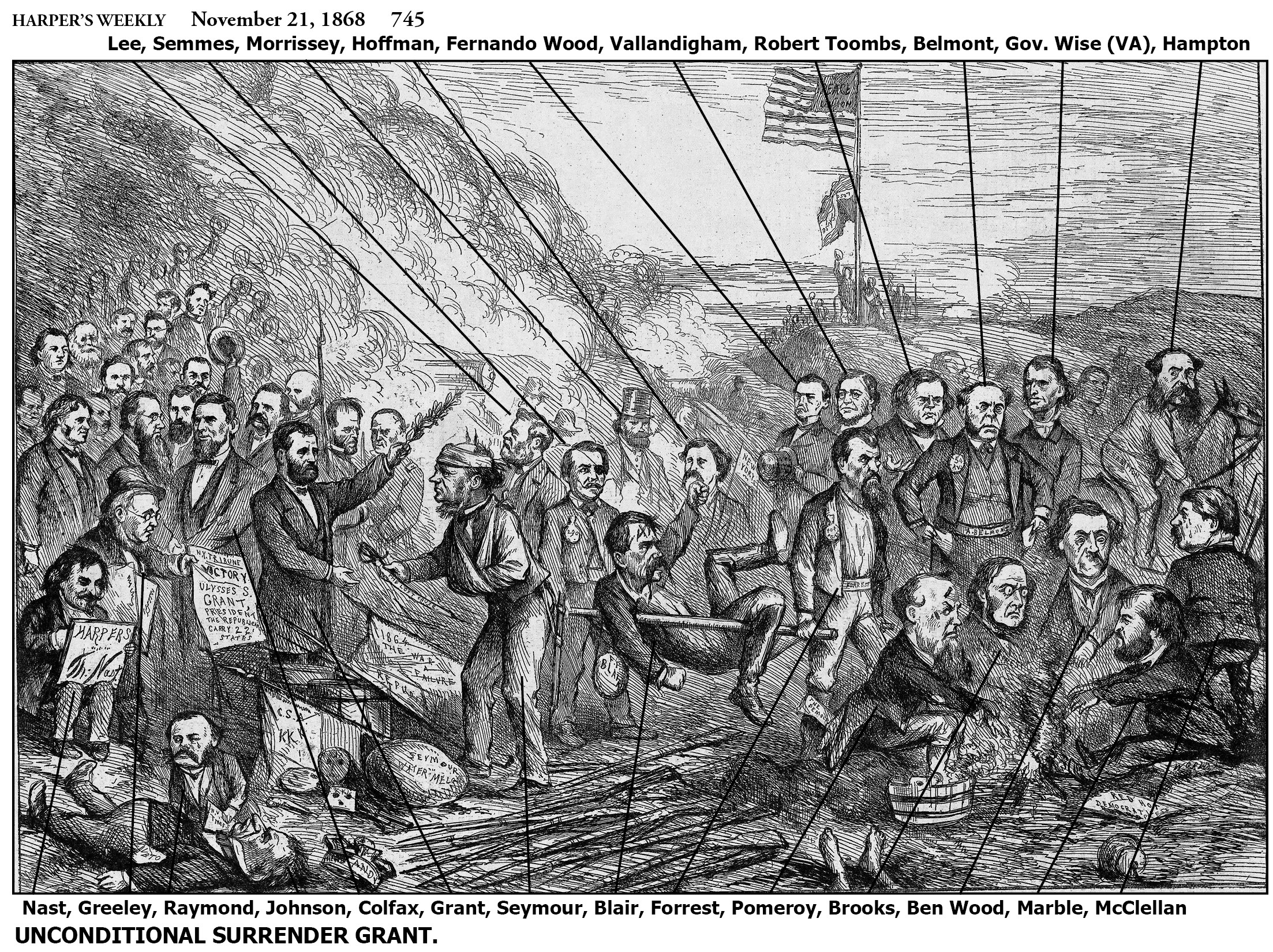 Apollo Amusing the Gods
In a fanciful finale to President Grant's 1872 reelection victory over Horace Greeley, Nast drew Greeley and 27 associates.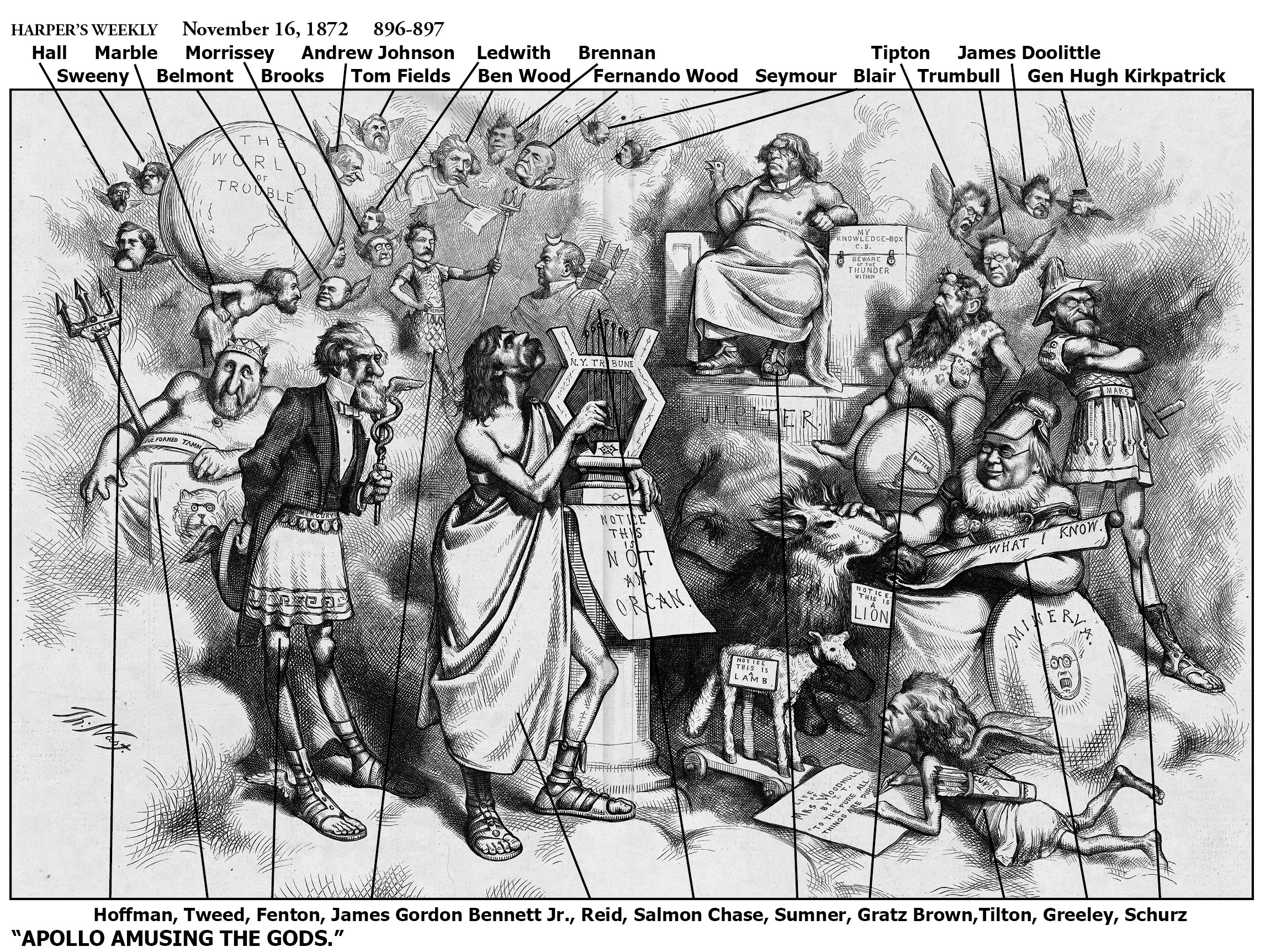 Manually-Created Index
Predicated solely on Nast's 1,000 cartoons, illustrations, sketches, and paintings.
Unique, Encyclopedic Visual Reference Resource.
Three Sections
(Nast's work is bolded)
Nast's Life and Work
In addition to the Personal and Business Aspects of Nast's life, this Index includes Newspapers/Publishers (frequent Nast targets); 100 Cartoons by Other Artists (relative to Nast and by Publication); Symbols; and his Artistic/Literary Sources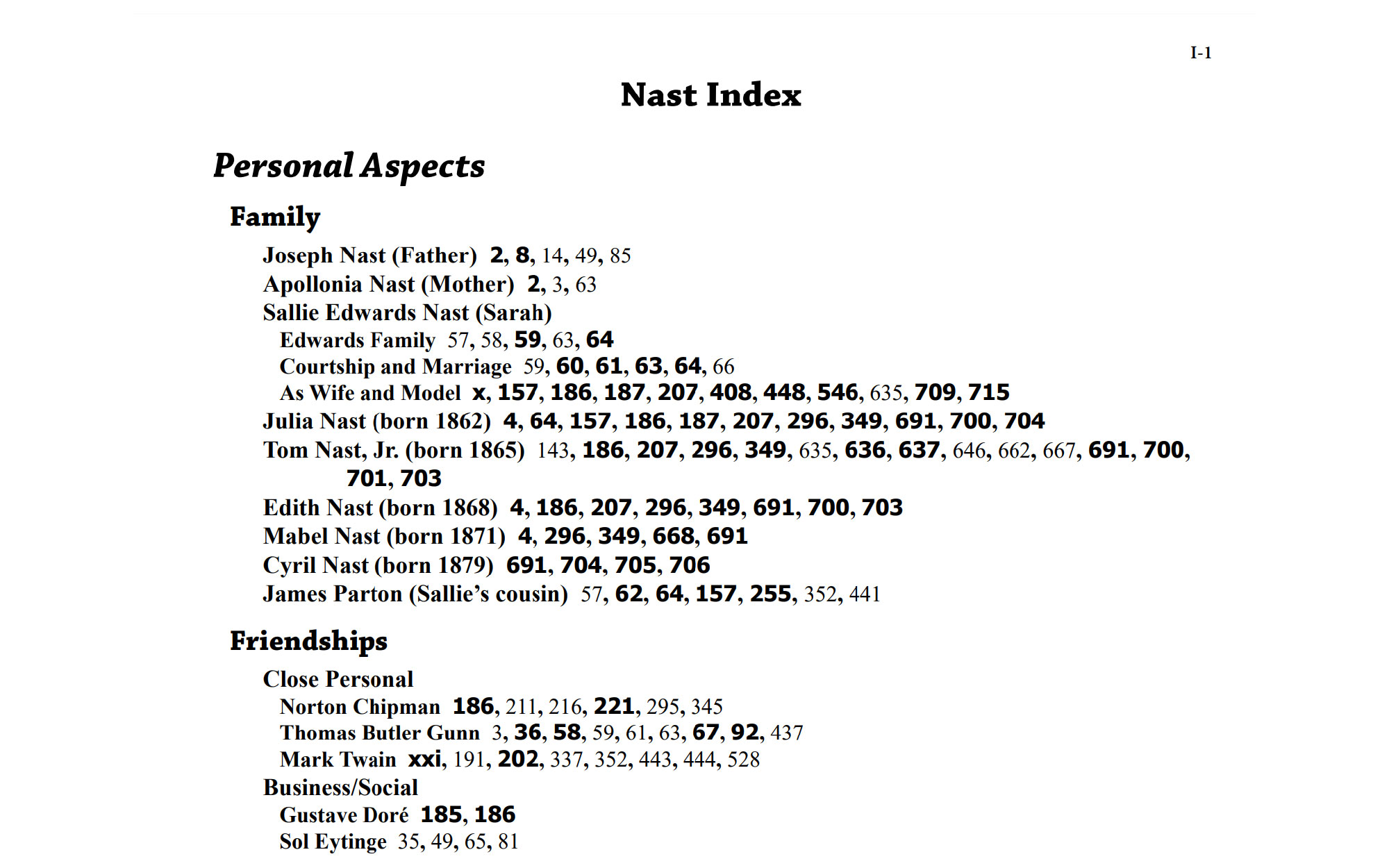 Topics/Issues
Ten major categories and dozens of sub-categories comprise this section.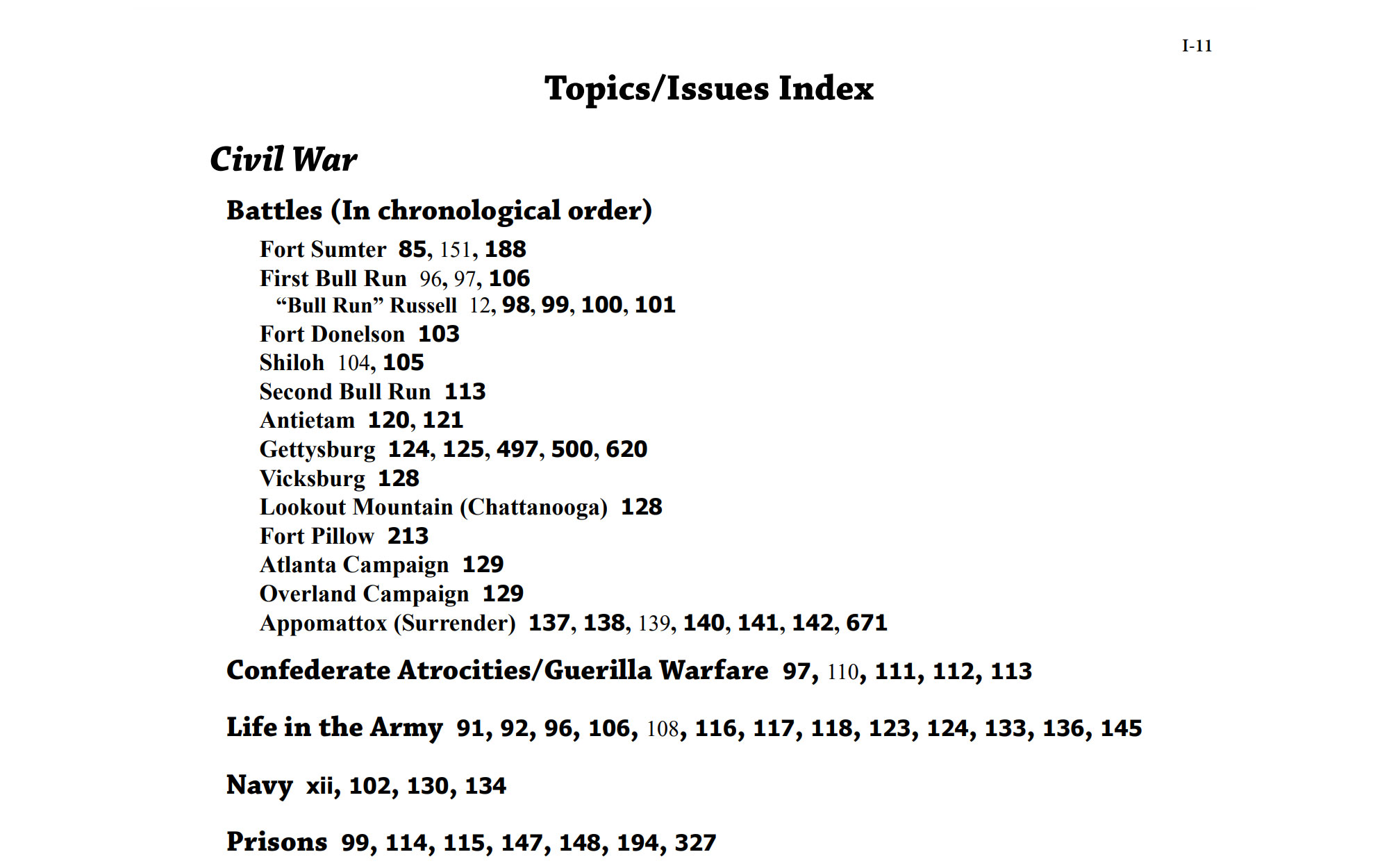 236 People/Characters
Nast drew more than 450 different characters in Harper's Weekly. All but five were identified in the research for this biography; many were portrayed only once or twice, and they generally appeared in individual, non-serialized cartoons which were not selected for this biography. Just over half his characters are included in this Index.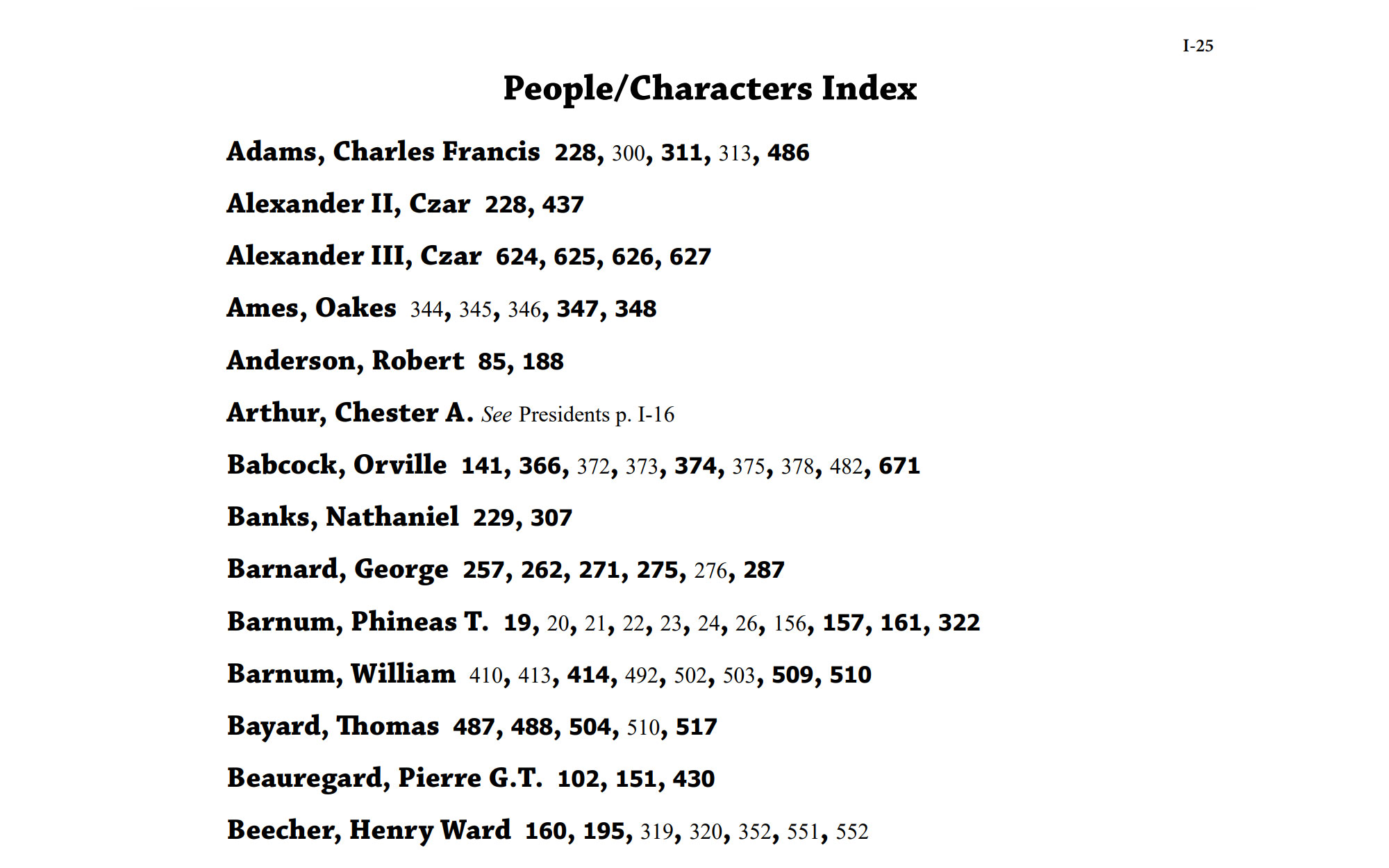 About the Author – John Adler
After graduating from Dartmouth College in 1949 — with an MBA but without any history courses under his belt — John's principal business experience was as a management consultant and entrepreneur. As an amateur historian, his consulting expertise paved the way for this book, and his actual road led through advertising.
More than fifty years ago, he started AdTel, Ltd., a marketing research business, which used novel dual-cable television to break new ground in measuring television advertising effectiveness and testing new products. By 1972, John had conducted several hundred meaningful tests, and became interested in the history of American advertising.